PTSD in Real Life
This following story is an excellent illustration of what PTSD looks like in a everyday person's life. The main character, Sam Slaven, is incredibly honest about the effect that having been a war veteran had on him. Here's the summary from This American Life:
Listen @ TAL online (Note: The selection I am referring to is Act I)
Sam Slaven is an Iraq War veteran who came home from the War plagued by feelings of hate and anger toward Muslims. TAL producer Lisa Pollak tells the story of the unusual action Sam took to change himself, and the Muslim students who helped him do it.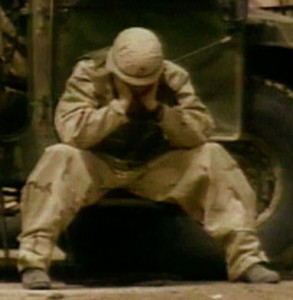 To understand PTSD is to have good building blocks for understanding other traumas that many people experience some time in life, that fall shy of a full-blown Post-Traumatic Stress Disorder diagnosis. These include situations such as rejection, prejudice, being made fun of, the sudden, unexpected loss of a job, the death of a loved one, a divorce (one's own or parents'), being bullied, feeling unseen or ignored, having to compete for attention, a teacher saying you are "stupid", a breakup, etc.
As is common with This American Life stories, the way the story is told – with its quirks and unexpected twists and turns – is just as much what draws you in as the content itself.